---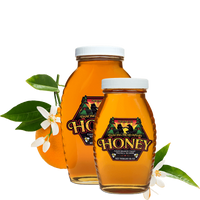 Notes of citrus and tangy orange rind intertwined in a not-too-sweet, captivating finish.
A versatile floral honey, it is perfect drizzled onto fruit salads, whisked into salad dressings, or as a glaze for ham. Great with Greek yogurt or English breakfast tea.
Our raw honey is never heated warmer than a beehive, and gently strained but never filtered.
Handled carefully every step of the way from the hives to you, preserving all the natural vitamins, minerals, amino acids, and enzymes.
Sourced from a trusted beekeeper in California.
Associated with good fortune and eternal love, orange blossoms have often adorned bridal wreaths and bouquets. Delicate and aromatic, the blooms are an important essence in perfumery, and these delightful notes may also be tasted in the honey distilled from their nectar.

Pure, raw honey just as the bees intended.
Never filtered or heated warmer than a beehive.

We bring you this captivating honey from the beehives of a trusted beekeeper friend in California, whose bees visit the orange orchards that have grown there for more than two centuries. Pleasing citrus notes are accompanied by floral overtones, creating a burst of flavor reminiscent of a warm summer's day.

By sourcing and bottling this honey from our trusted friend in California, we ensure its purity from the moment it leaves their hives until it reaches you. Each jar includes all the benefits and vital nutrients that bees offer you… a naturally delicious, sweet treat.

To make honey lemonade, warm 1/3 cup honey in 4-1/2 cups of water over low heat. Add 1 cup fresh lemon juice, chill & serve.

With every purchase, you support a family business for whom bees are not just a way of life, but a passion. By supporting our beekeeping, you ensure that we're able to maintain a happy, healthy population of local pollinators, whose benefits to our world extend far beyond honey itself.