---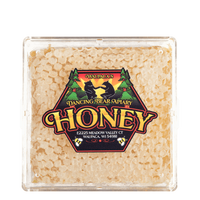 Comb honey is the purest, rawest honey you can buy.
Delicious spread with butter on hot toasted bread or English muffins. Cut a chunk and spread it lightly, letting the heat soften the comb so it flattens into the toast along with the honey.
Also good on hot biscuits, French toast, or pancakes. Or try a peanut butter and comb honey sandwich. Yum!
Add a piece of cheddar, blue cheese, brie, or another favorite to a cracker and top with a small chunk of honeycomb.
Pure raw honey sealed by our own bees, preserving all the natural vitamins, minerals, amino acids, and enzymes.