---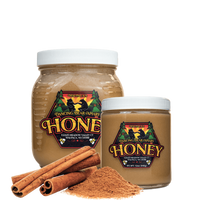 Simply pure, raw honey with natural Vietnamese cinnamon. Just two ingredients in every jar.
Vietnamese cinnamon crème honey is great on ice cream or as a smooth, creamy spread that goes great on buttered toast and bagels.
Slice an apple up, place a spoonful of cinnamon creamed honey on it and heat in the microwave for about 20 seconds for a delicious snack.
Enjoy a small spoonful throughout the day as a healthy treat.
Our crème honey is made from raw honey that is never heated warmer than a beehive, and gently strained but never filtered.
Handled carefully every step of the way from our hives to you, preserving all the natural vitamins, minerals, amino acids, and enzymes.